Commercial & Residential Landscaping --OLD PAGE
WildLands' creative landscapes capture the splendor of each season and reflect the natural beauty of the surrounding area.  We specialize in landscapes that combine native plants and ornamentals in attractive and harmonious settings.  Ccoordinating the palette, plants and materials, we create a beautiful, healthy landscape to enhance a home or commercial development.

Our services include professional landscape design, consultation, project planning, and environmental compliance and permitting support. We install bark, rock, sod, irrigation, retaining walls, natural stone, pathways, drainage systems, water features, low-voltage lighting, and fencing.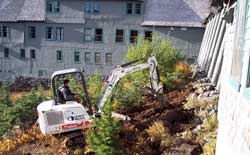 Our landscaping team includes experts in landscape architecture, native plants, nursery operations, revegetation, irrigation, hydroseeding and ecology.  We work from professional, customized landscape designs.  Our highly trained crews install plants of all sizes, including grasses, shrubs, trees, and flowering species.  We offer hydroseeding and hydromulching with site-specific mixtures to stabilize soil and promote plant growth.c

For commercial clients, Wildlands offers experience in eco-restoration and landscaping projects including golf courses, Zion National Park and other large developments.  In addition to our technical expertise, we offer effective project management and a history of successful interactions with stakeholders, including government officials, regulators, native tribes, private landowners, and environmental groups.

For residential clients, WildLands offers customized landscape designs tailored to the homeowner's objectives and preferences.  We can help you create show-stopping streetscapes, improved functional outdoor space, low-maintenance yards, or beautiful garden areas.