At WildLands, Inc., restoring the health and beauty of the land is the nature of our business.  We started our company in 1987 with a staff of two specialists offering planting and erosion control.  Today, we have over 30 full-time employees and numerous planting crews working year-round.  We offer a full complement of eco-restoration services and enjoy a legacy of thriving wild lands contributing to attractive landscapes throughout the western United States.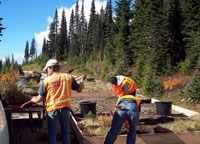 Clients We support clients in the private and public sectors.  We have been a prime contractor to the National Park Service since 1998, helping mitigate impacts to pristine public parks and protected areas.  We also serve the U.S. Forest Service, the Bureau of Land Management, the Bureau of Indian Affairs, and other federal agencies.  Additionally, we perform work for public utilities, state and federal transportation departments, conservation districts, and private landowners and contractors.

Staff Our knowledgeable staff has years of experience in plant propagation and all aspects of ecological restoration.  Our expertise includes botany, horticulture, soils, agriculture, farming, forestry management, nursery management, wildlife biology, engineering, environmental chemistry, and mechanics. 
Members of our staff are well versed in the permitting and compliance requirements of the Endangered Species Act, the Clean Water Act, the Salmon Recovery Act, and the National Environmental Policy Act, as well as the requirements of state and local authorities.  Additionally, our personnel include specialists trained and certified in Erosion and Sediment Control, Commercial Pesticide Application, and Bonded Fiber Matrix Application.
Facilities and Equipment WildLands is fully capitalized with facilities and equipment for plant propagation and field work.  We maintain a 5-acre equipment and materials storage area, a 5,000-sq-ft shop, a 4,000-sq-ft covered storage area, our 25-acre WildLands Nursery, and 3,700 sq. ft of office space, and we are growing.  We operate our own fleet of hydroseeders, bark blowers, field implements, tractors, roto tillers, mowers, seed strippers, sprayers, semi-trucks, Low-Boy trailers, and tankers.  We have unique equipment for challenging site conditions, such as our Komatsu excavator with ripper and stinger attachments.
Drawing on all our resources, we provide services and strategies for optimizing plant growth and enhancing an area's natural aesthetics.  We view each revegetation project as an opportunity to help mend impacts to the land, support biodiversity, and create a healthy environment for a sustainable living community.