Terraseeding™
WildLands offers Terraseeding™, a quick, economical method for seeding sites in landscaping and erosion control projects.  Terraseeding™ is a blown-on application of nutrient-enriched soil and seed.  In an ultra-efficient single step, we can seed a site without the labor and expense of hauling and spreading topsoil and separately distributing seed and fertilizer.  Terraseeding™ rapidly covers the ground with the topsoil-seed mixture and levels out rough-graded subsoils, providing a smooth-finished, well-drained ground cover.  Wildlands, Inc. is a certified Terraseeding™ installer through Rexius.
(Terraseeding™ is a trademark of Express Blower, Inc.)
Mulch Matting
WildLands has developed proprietary techniques for installing permeable mulch matting to prevent erosion and achieve a highly effective weed barrier. Using mechanical systems and hand-crafted micro-siting techniques, we install the matting with a tight seal that reduces evaporation, minimizes wind damage, prevents noxious weed growth, and encourages vigorous plant growth.  We use a variety of materials and specialized matting techniques that meet and/or exceed Natural Resource Conservation Services requirements for CRP projects. The matting, which stabilizes the soil until new plants are established, is ideal for erosion control of many project sites, including riparian and buffer zones.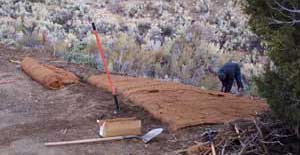 Coir Matting
Coir matting involves the formation of long-lived woven coconut fiber grids that are used on high-angle slopes, highly erodible soils, or channel linings. They are biodegradable but may persist for several years.
Wattles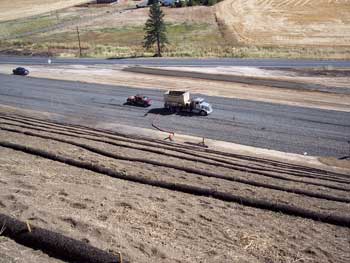 For long-term erosion and sediment control of sloped sites, Wildlands installs straw, compost and other types of wattles tailored to specific site conditions and requirements.  Placing the fiber-filled socks along the contours of a hillside, we use wattles to mitigate the forces of stormwater during and after construction activities.  Wattles slow the runoff, facilitate water infiltration into the soil, and stabilize the slope.
We use UV-degradable plastic netting or fully bio-degradable burlap tubing for straw wattles, and we use Filtrexx FilterSoxx™ tubing for wattles filled with high-quality compost or wood chips.  Wildlands, Inc. is a certified installer of Filtrexx™ products.  The socks can be filled on site with our bark blowing machine.  We use high-quality filling material that is free of weed seeds and pathogens, and we add nutrients for seeded slopes to increase success rates for slope revegetation.  Wildlands recently installed over 200,000 feet (40 miles) of compost wattles between Lewiston and Moscow, Idaho, for an interstate road reconstruction project.