Native Dryland Seeding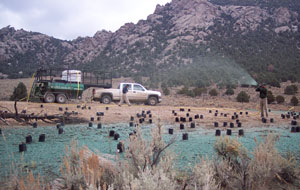 Wildlands offers Native Dryland Seeding as a cost-effective option for landscaping sties where the property owner wants to maintain native plants, control weeds, and minimize maintenance costs.  We use native, drought-tolerant species that are well adapted to local environmental conditions.  Once established, they offer hardy, enduring vegetation that does not need fertilizer, irrigation or other maintenance.   
Combined with wood mulch, the seed is efficiently applied with a hydroseeder, which minimizes ground disturbance and aids weed control.  We also offer distribution via drill-seeding, broadcasting or a combination of methods, depending on the terrain.  If seed is drilled in or broadcast, we usually apply a layer of hydromulch over the top to augment nutrients for germination and to protect the seed from wind and water erosion. Native Dryland Seeding mixtures can include shrub, forb and grass seeds.  The resulting diverse vegetation community contributes to wildlife habitat and enhances sediment control, soil stabilization and overall environmental quality.