Golf Course Seeding and Mulching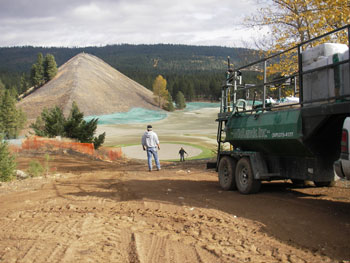 Wildlands provides hydroseeding and hydromulching services for cost-effective landscaping of golf course properties.  Hydroseeding is a fast and easy way to generate and fill in turf and create lush perimeter vegetation. It is significantly more economical than conventional sod installations. The mulch-seed mixture can be applied with minimal site disturbance and provides a micro environment that is beneficial to seed germination.
Our mulch-seed mixtures are tailored to course needs and designed to promote growth, stabilize the soil, and enhance the manicured appearance of the course.  We use high-quality, weed-free, course-specific seed species for healthy, enduring vegetation.