Hydroseeding and Hydromulching
Hydroseeding and hydromulching are two of WildLands' primary services for revegetation projects.  We apply seed and/or mulch on the ground or from the air providing precision coverage for large areas, including remote sites with steep slopes or rugged terrain.
We have extensive experience with conventional hydroseeding methods and materials as well as new and innovative products and approaches.  We keep abreast of new developments in the industry and use them with best management practices to meet client needs for soils stabilization, erosion control, restoration and vegetative cover.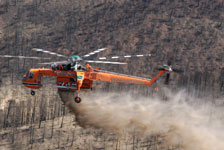 We develop our own hydro-application recipes and treatment application plans.  We are experts in effectively combining fertilizers, soil builders, native seed, tackifiers, and organic materials to encourage faster seed establishment and improve stress tolerance.  We have a fleet of hydro trucks and equipment for ground applications and use both helicopters and fixed-wing aircraft for precision-guided aerial applications.