Site Preparation
To prepare a site for plant installation, we tailor our approach to the physical characteristics of the site, planting requirements, and project goals.  We use manual and mechanical techniques to clear and contour the site, removing debris and competing vegetation.  We hand-scalp areas, where needed, to work around rocks and tree stumps.  For sites with sensitive species, we have custom-built equipment that minimizes disturbance and protects existing vegetation.  Throughout the process, we observe and identify subtle growth patterns in the existing vegetation and identify opportunities for micro-siting plants to compliment and enhance the area's natural growth.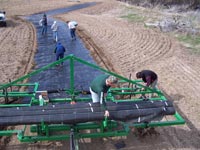 Sites often require permeable mulch matting or other weed-barrier fabrics, which we install with mechanical systems or hand-crafted micro-siting techniques depending on the geography and land conditions.  Our techniques ensure a tight seal that reduces evaporation, minimizes wind damage, prevents noxious weed growth, and encourages plant establishment.

When site preparation requires soil amendment, we have effective proven approaches for improving soil texture, substrate stability, water-holding capacity, and available nutrients for plant requirements.  Our unique combinations of organic material, soil builders and fertilizers enrich the soil for optimal plant viability, faster seed establishment, and improved plant stress tolerance. Amendments are based on soil analysis and designed with specific release rates to promote growth.