Plant Installation
W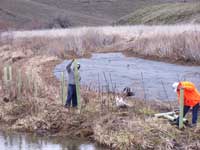 e install plants according to planting prescriptions and plans we have developed from surveys and ecological assessments of the site.  The plans indicate the species, location and techniques for matching installation of plants to the natural vegetative growth of the site's surrounding plant community. 
We work quickly, mobilizing field crews, equipment, plant stock, and materials for installation of seed, plants, grasses, browse protectors, compost, mulch mats, and fertilizers. 
We have years of experience, and our work crews are highly trained and closely supervised to distinguish plants and exotics.  We use planting techniques that promote plant establishment, control exotics and minimize disturbance of existing vegetation.